About Dr. Paul Kaminski D.C.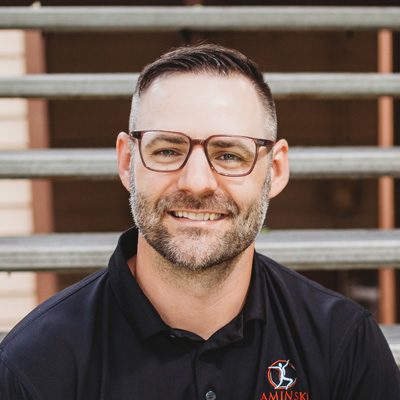 Meet Your Trusted Chiropractor
Welcome To Kaminski Chiropractic!
At Kaminski Chiropractic, we believe in providing compassionate and effective chiropractic care to enhance your overall well-being. Driven by a passion for helping our patients achieve optimal health, Dr. Kaminski will help lead you to health and wellness with expertise and dedication.
---
About Dr. Paul Kaminski
Dr. Kaminski is an experienced and dedicated chiropractor who has been serving the Greater Grand Rapids area since 2012. With a deep commitment to improving the lives of our patients, Dr. Kaminski has established a reputation for excellence in chiropractic care.
---
Our Mission
Dr. Kaminski's mission is to empower individuals to live healthier, pain-free lives through natural and holistic chiropractic treatments. We understand that each patient is unique, and our personalized approach ensures that you receive the care you need to achieve your health goals.
---
Education and Expertise
Dr. Kaminski holds a Doctor of Chiropractic degree from Palmer College of Chiropractic West in San Jose, CA, where he gained a solid foundation in the principles and techniques of chiropractic medicine. Over the years, Dr. Kaminski has continued to expand his knowledge and skills through ongoing education and training.
---
Why Choose Kaminski Chiropractic?
Patient-Centered Care: At Kaminski Chiropractic, you are at the center of our care. We take the time to listen to your concerns, understand your needs, and develop a personalized treatment plan tailored to you.
Experience: With over 10 years of experience, Dr. Kaminski has successfully treated a wide range of conditions, helping countless individuals find relief from pain, achieve improved mobility, and excel in athletics.
State-of-the-Art Facility: Our well-equipped facility ensures that you receive the latest advancements in chiropractic care in a comfortable and welcoming environment.
Holistic Approach: We believe in addressing the root causes of your health issues rather than just managing symptoms. Our holistic approach aims to improve your overall well-being.
Gonstead Technique: At Kaminski Chiropractic, we use the Gonstead Technique. The Gonstead set of procedures are the result of extensive clinical research by Clarence S. Gonstead. After 55 years of continuous practice and over 4 million chiropractic adjustments he developed the most complete method of biomechanical analysis available for use by today's doctors of chiropractic.
---
Get to Know Dr. Kaminski Outside the Office
When Dr. Kaminski isn't helping patients on their journey to wellness, he enjoys spending time with his wife, Samantha, and three daughters, Alexis, Abygail, and Harper Grace. He also is an avid sports fan and enjoys being outside golfing and hunting. This passion for an active lifestyle reflects Dr. Kaminski's dedication to a balanced and healthy lifestyle, which he also encourages in his patients.
---
Let's Start Your Journey to Wellness
Discover how Dr. Kaminski can help you live a pain-free, healthy life here at Kaminski Chiropractic. Contact us today to schedule your appointment and take the first step towards better health.
Giving Back & Making A Difference
Every month, Kaminski Chiropractic PLLC selects a local non-profit organization to support. Half of every new patient appointment fee is donated.
We want to enrich the lives within our community. By giving back to charity, we value those who are committed to enhancing their lives of those around them. Living in a community that shares this vision is why we love Grand Rapids MI!
OFFICE HOURS
---
Monday
8:00am - 12:30pm
2:00pm - 6:00pm
---
Tuesday
8:00am - 12:30pm
2:00pm - 6:00pm
---
Wednesday
8:00am - 12:30pm
2:00pm - 6:00pm
---
Thursday
8:00am - 12:30pm
2:00pm - 6:00pm
---
Friday
Closed
---
Saturday & Sunday
Closed